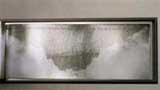 Clouds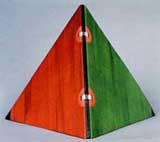 Four Songs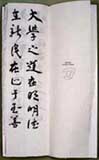 The Great Learning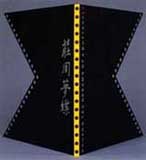 Dreams of a Butterfly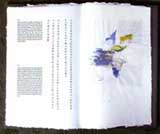 The Tao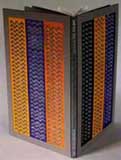 The Te
Creative Couples–Transcultural Media: Gunnar A. Kaldewey and Bun-Ching Lam
An Exhibition-cum-Concert-and-Lecture-Series
I'm Nobody! Who are you?
Are you Nobody too?
Then there's a pair of us!
Don't tell! They'd advertise, you know!
(Emily Dickinson Bolts of Melody, IV, 1945 set to music by Bun-Ching Lam, 2003)
Bun-Ching Lam, a female composer and calligrapher originating from Macao and Gunnar A. Kaldewey, a German book artist, have been working together, a creative couple, and long since not a "pair of nobodies," for more than 25 years now. The artistic outcome of their symbiotic relationship, creatively played out between New York and Paris, and presented in this exhibition, which is accompanied by a Concert-cum-Lecture-Series, includes some 16 artist books of poetry and philosophy to date, and a good two dozen musical compositions, each of them presenting ever new "creative couples."
Some of Kaldewey's artist books have been inspired by Lam's musics (as in Four Poems of 1986 which contains etchings from Lam's score for the Four Beckett Songs composed in 1980). Sometimes, Lam, the calligrapher, and Kaldewey, the artist, couple creatively in as in The Te, i.e. Virtue (1998), a book which sets art (by Kaldewey), not music to the text of Daoist philosopher Laozi as presented in beautiful calligraphy (by Lam). Then again, some of Lam's musics would have been inspired by Kaldewey's books (such as Clouds/Wolken which appears as an artist book with poetry and photographic art by Kaldewey in 1982 and is "set to music" in yet another creative coupling by Lam in 1986). And sometimes music and book art come together as in Nachtgesänge, which not only contains etchings of the score to Lam's set of songs to words by Hölderlin, but a CD with her music itself as well. Both book and composition where created together in 2000.
Lam and Kaldewey, in each of their joint creations engage in multiple and synaesthetic translations: between languages and between media, between art, literature and music. Lam not only inspires the book art of Kaldewey as a composer but appears as translator and calligrapher in these books (as in Dreams of a Butterfly 1995), too, while Kaldewey provides drawings, or paintings, or photography to fit her calligraphies and translations (as in Ten Reflections from the 'Roots of Wisdom' 2004 ).
Each artistic product, the books, the art works, the calligraphies, the poetry and the compositions, which is added to make up the creative couples that are so typical of the Lam/Kaldewey connex, is negotiating and (re)creating an artistic style epitomizing flows between Europe and Asia, from Samuel Beckett to Confucius, from Heinrich Heine to Han Shan, from Kyoto to New York.
The Exhibition-cum-Concert-and-Lecture-Series will feature and discuss some of these flows and the creative dissonances and asymmetrical harmonies which they engender. It is meant to make possible to deal with questions of transculturality in contemporary art and culture from the point of view of its multimediatic and translationary nature.
The Exhibition-cum-Concert-and-Lecture-Series is a joint project by Heidelberg University's Cluster of Excellence "Asia and Europe in a Global Context – Shifting Asymmetries in Cultural Flows" and the newly founded Confucius Institute in Heidelberg. It is funded by the German Research Foundation (DFG) and the Heinz-Götze-Stiftung. The artist-composer-couple will present a programme including artist books, concerts (including several European and a world premiere) which will feature musics inspired by Asian and European art, philosophy and poetry and introductory lectures by publishers, sinologists and art historians as well as the two artists themselves ech of which will highlight a different aspect of the medial and cultural crossovers and creative couples featured in the syncretic and synaesthetic arts of Lam and Kaldewey.
This Exhibition-cum-Concert-and-Lecture-Series is organized by the Cluster's Research Project B2 "Creative Dissonances: Music in a Global Context" and the Confucius Institute, Heidelberg.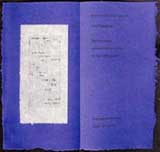 Nachtgesänge

The Artist Book in a Global World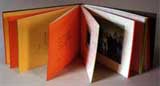 Eight Views of the Li River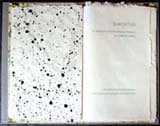 Ten Reflections from the 'Roots of Wisdom'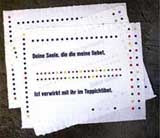 Ein alter Tibetteppich