Exhibition Lam Bun-Ching and Gunnar A. Kaldewey:
"Creative Couples, Musics and Books"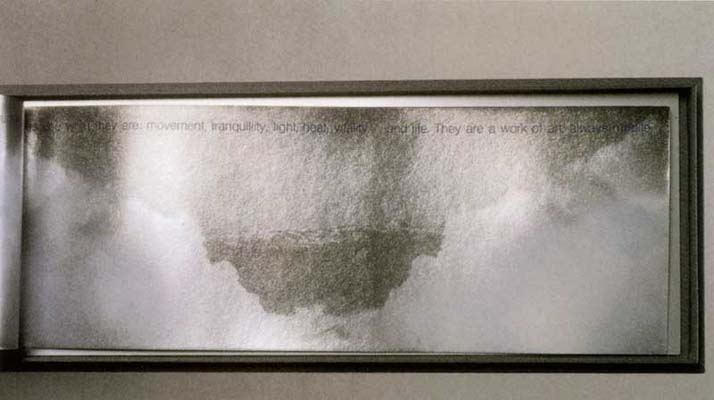 GUNNAR A. KALDEWEY, WOLKEN • CLOUDS. Dusseldorf/New York 1982.

28 pages on aluminum sheets. Printed in blue letterpress on a black letterpress background of a photograph of a cloud formation each page individually sprayed in white pink and blue further suggesting cloud formations. 30 projected copies in German and 30 copies in English. 10 x 45 cm.
Bound by C. Zwang in polished aluminum covers with hinges of stainless steel' in a gray linen box lettered in silver.
First edition. The author prepared both texts the English however with considerable assistance from Arthur A. Cohen. Signed by the author-printer. Only about 40 copies total were finally realized because of difficulties encountered when printing multi-color on aluminum foil.

GUNNAR A. KALDEWEY, CLOUDS. New York 1987.
1 leaf on architect s vellum. 2 silk screened rectangles. 100 copies. 62 x 45 cm.
The broadside is signed by the author/printer and by the composer and consists only of the English text of KALDEWEY PRESS 2 above. It was dropped from a helicopter at the premier of >Cloud 11< by Bun-Ching Lam in Seattle 20 September 1987.