Exhibition Lam Bun-Ching and Gunnar A. Kaldewey:
"Creative Couples, Musics and Books"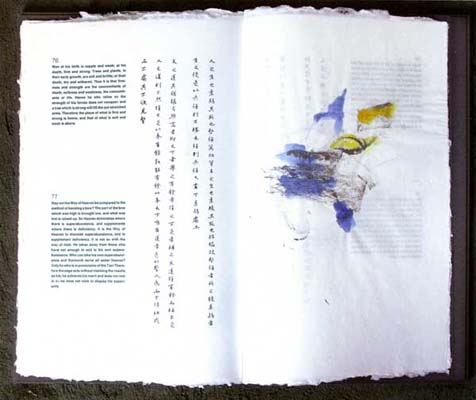 LAO TSU, THE TAO TE CHING: THE TAO. New York 1997.

40 pages on Kaldewey handmade flax paper with full deckle. English text printed in red' Chinese calligraphy by BUN-CHING LAM printed in black. 17 drawings in gold printer s ink by GUNNAR A. KALDEWEY. 35 copies. 50 x 31 em. Bound by Judi Conant in a flexible lined silk' in chemise and slipcase by Judi Conant.
7 deluxe copies with watercolors gently highlighting the gold drawings. Bound by T. Zwang in gray Canson over board with black calf spines titled in gold' both front and back covers are inlaid with 3 plexiglass panels that vary in color from copy to copy' in chemise and slipcase.
First edition with these illustrations. Signed by the artist-printer with his Chinese seal. The English translations of this and the following are by James Legge published by Oxford University Press 1891.