Exhibition Lam Bun-Ching and Gunnar A. Kaldewey:
"Creative Couples, Musics and Books"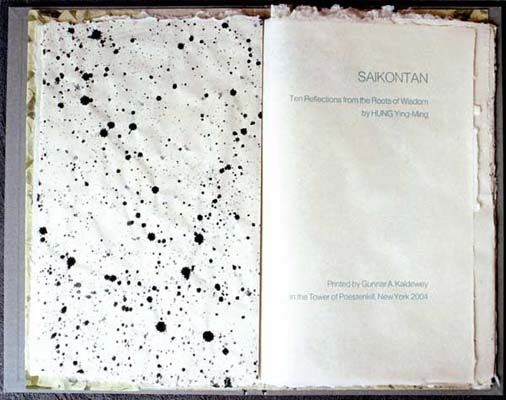 HUNG YING-MING, SAIKONTAN. TEN REFLECTIONS FROM THE 'ROOTS OF WISDOM'. New York 2004.

38 pages on unbleached Kaldewey handmade Abaca paper. Both the translation into English printed letterpress and the Chinese calligraphy printed from metal cuts are by BUN-CHING LAM.
7 double-page original ink drawings by GUNNAR A. KALDEWEY. 35 copies. 50 x 30 em. Loose sheets in a Japanese tea-leaf paper wrapper into a chemise and slipcase by Judi Conant.
7 deluxe copies with an extra suite of the Chinese and English text. Bound by T. Zwang in flexible green leather fastened with 6 different colored grommets.
All copies are signed by the printer and with his Chinese seal.