Exhibition Lam Bun-Ching and Gunnar A. Kaldewey:
"Creative Couples, Musics and Books"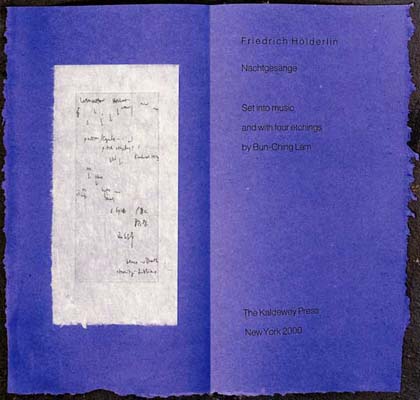 FRIEDERICH HOLDERLIN, NACHTGESANGE. New York 2000.

20 pages on light purple Kaldewey handmade paper. Both set to music and with 4 etchings by BUN-CHING LAM printed on white Japanese paper. 30 copies. 47 x 25 cm. Loose sheets laid in a dark blue linen box with metallic stamping.
7 deluxe copies with an extra suite of the etchings on yellow Chinese paper. Bound by T. Zwang in dark blue leather with silver stamping.
All copies are signed by Bun-Ching Lam and contain a CD of her compositions of the songs.