Exhibition Lam Bun-Ching and Gunnar A. Kaldewey:
"Creative Couples, Musics and Books"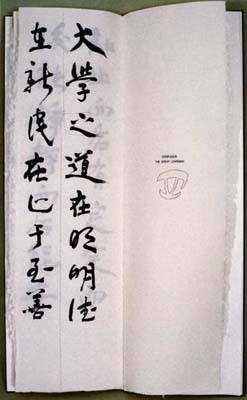 CONFUCIUS, THE GREAT LEARNING (in Chinese). WITH AN ENGLISH TRANSLATION BY EZRA POUND. New York 1990-91 .

32 pages on Kaldewey handmade paper with the artist s watermark after a drawing by Not Vital himself. 1 sheet on Japanese paper coated with silver foil. Chinese calligraphy by BUN-CHING LAM. 2 drawings and a continuous pencil line drawing across all the pages by NOT VITAL. 30 copies. 81 x 24 cm. Bound by C. Zwang in black paper over board with a label printed in silver' a few copies issued as loose sheets in a wrapper of thick brown Manila hemp paper interwoven in a rhythmic pattern with strings in a chemise and slipcase.
10 deluxe copies in loose sheets laid into covers made of sticks and twigs by Not Vital' Chinese title label printed on foil' in a gray archival box.
First edition with this continuous pencil illustration that ends in a bold black paint stick block by Vital' with the artist's mark drawn on the title leaf facing the opening of the text. Signed by the artist and the calligrapher and with the Chinese seal of the printer.