Exhibition Lam Bun-Ching and Gunnar A. Kaldewey:
"Creative Couples, Musics and Books"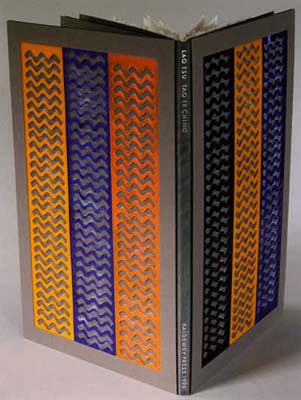 LAO TSU, THE TAO TE CHING: THE TE. New York 1998

48 pages on Kaldewey handmade flax paper, with full deckle. English text printed in green' Chinese calligraphy by BUN-CHING LAM printed in black. 21 drawings in silver printer's ink by GUNNAR A. KALDEWEY. 35 copies. 50 x 31 cm. Bound by Judi Conant in a flexible lined silk' in chemise ci'nd slipcase.
7 deluxe copies with watercolors gently highlighting the silver drawings. Bound by T. Zwang in Gray Canson over board, with gray calf spines titled in silver; both front and back covers are inlaid with 3 plexiglass panels that vary in color from copy to copy' in chemise and slipcase.
First edition with these illustrations. Signed by the artist-printer with his Chinese seal.