Exhibition Lam Bun-Ching and Gunnar A. Kaldewey:
"Creative Couples, Musics and Books"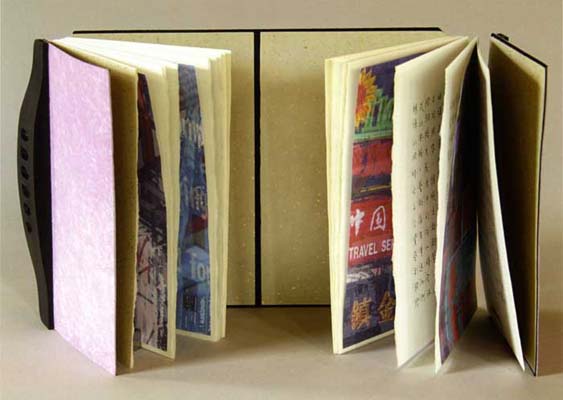 GUNNAR A. KALDEWEY, THE ARTIST BOOK IN A GLOBAL WORLD. New York 2002.

32 pages on Kaldewey handmade paper printed letterpress and with metal cuts made from Chinese calligraphy by Bun-Ching Lam. 8 color Photoshop images on white computer paper by GUN AR A. KALDEWEY. 25 copies. 19 x 26 cm. Bound dos a dos by T. Zwang in black paper over thin board with silver foil at openings' in a chemise and slipcase of old Dutch chagrin lizardskin paper.
10 deluxe copies on old English J. Whatman paper. Bound by T. Zwang in pink leather with two ebony spines made by Shahin Cabinetmaking of Albany N.Y' in a chemise and slipcase.
The text is printed in English, German Chinese and Spanish as a tribute to Kaldewey s exhibitions during 2002 in Bogota Columbia' Hong Kong China' Oakland and New York United States' and Stuttgart and Hamburg Germany. The translation from English into Chinese was made by BunChing Lam and that into Spanish by Luis Angel Parra. All copies are signed by the author-printer. Two illustrations derived from photos of modern illuminated street scenes from those four countries are interleaved with each text.