Exhibition Lam Bun-Ching and Gunnar A. Kaldewey:
"Creative Couples, Musics and Books"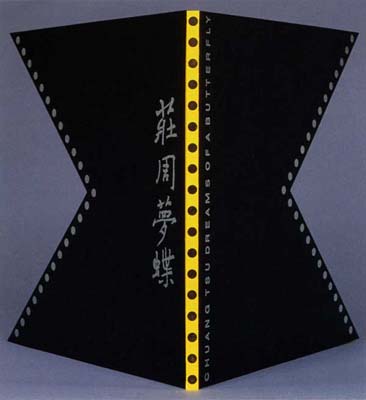 CHUANG TSU, DREAMS OF A BUTTERFLY. New York 1995.

40 pages on old Chinese folded paper. Printed from engraved plates of the calligraphy by BUN-CHING LAM. 8 hand-colored etchings by GUNNAR A. KALDEWEY. 40 copies. 31 x 31 cm. Bound by T. Zwang in black paper over board titled and decorated in silver with a yellow spine and green endpapers' in a chemise and slipcase.
First edition with these illustrations. Translated from the ancient Chinese by Bun-Ching Lam.
Chinese printed right-to-center and English printed left-to-center with the colophon printed in the middle. Signed by the translator-calligrapher and with the Chinese seal of the printer. All elements in the construction of this volume were done in perfect symmetry in imitation of butterfly wings.