Exhibition Lam Bun-Ching and Gunnar A. Kaldewey:
"Creative Couples, Musics and Books"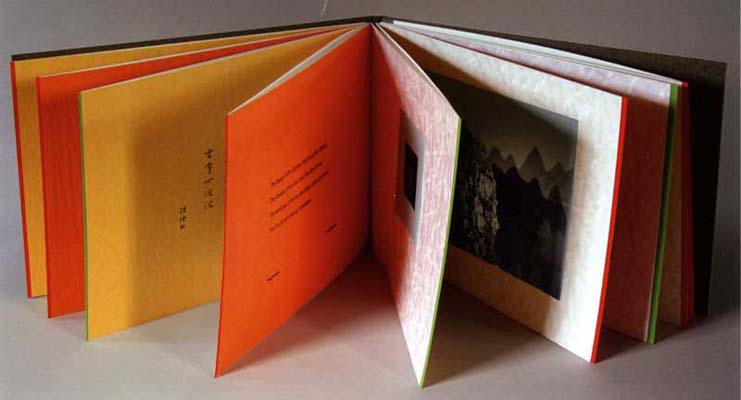 GUNNAR A. KALDEWEY, THE IMMORTALS. EIGHT VIEWS OF THE LI RIVER. New York 2002.

18 accordion-folded panels on alternating yellow and orange paper, printed letterpress and with metal cuts made from Chinese calligraphy by BUN-CHING LAM. 8 photo montages from pictures taken by GUNNAR A. KALDEWEY, printed on light blue paper mounted on old white Japanese album tissues. 25 copies. 28 x 43 cm. Bound by Judi Conant in green tea paper over board' in chemise and slipcase.
10 deluxe copies, hand-colored by Gunnar A. Kaldewey. Made up as an album bound in red silk specially made by Yang Wanbo of Yangshuo Guangxi Province.
The translations into English of word impressions of Tang and Song dynasty poets were made by Bun-Ching Lam. All copies signed with the Chinese seal of the author-printer and the signature of translator-calli,grapher.